When looking at analytic data about your business and your customers actions, it's incredibly important to avoid putting too much weight into vanity metrics like overall web traffic numbers which can be extremely misleading and instead focus on specific, actionable data metrics that really matter to your business.
What's most important here is the analysis of that data. Without proper analysis, it's impossible to understand what these mean and create an actionable plan that will impact your bottom line from the raw data analytics offers you.
Whenever you start tracking a metric ask yourself if it helps you take action and make decisions. If not, discard it.
Actionable metrics is intended to answer fundamental questions like:
Where do your leads and customers come from?
How did you increase or lose customers?
How did you increase or lose revenue?
What are the key reasons people are coming to you for?
If they don't buy, where and why are they leaving?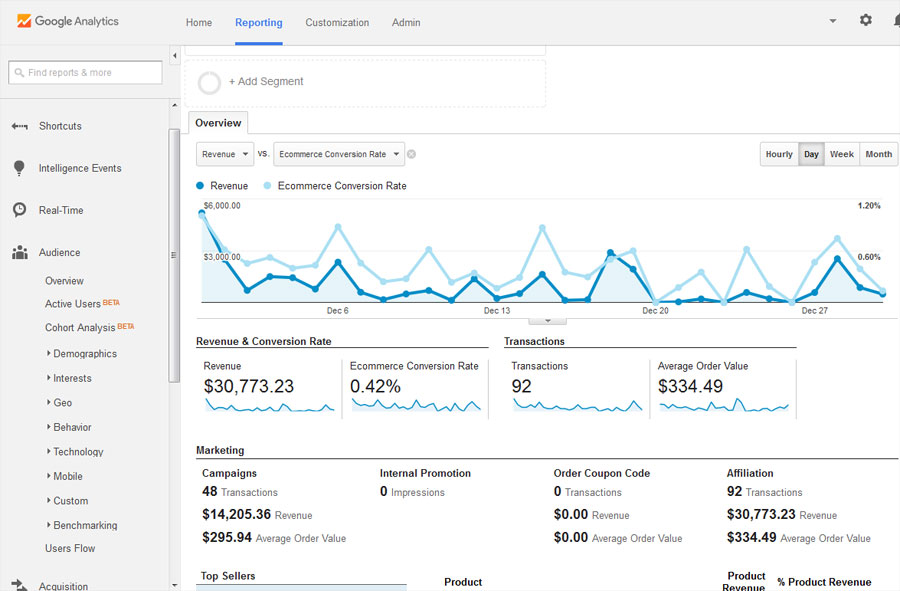 When looking at conversion rates, it's important to look beyond just site wide. Get precise about traffic sources, primary keywords, and marketing campaigns to laser focus on those income streams that make you the most money.
In order to make smarter decisions about what you're offering, your spending and ultimately where your money is coming from, I suggest you dig deep into the following actionable metrics:
Total Revenue (Month, Quarter, Annual)
Net Profit
Average Order Value
Earnings Per Click
Average Customer Value
Customer Lifetime Value (CLV)
Number of Transactions
ROI
Delayed ROI
Conversion rates
These metrics help guide your next steps. Help you figure out how much money you can spend on segments of your marketing that are working and those that don't yield real results. Don't be a data collector be a fact miner and maximize your time and ultimately your return on investment.
If you need help getting down to the heart of what these analytic metrics mean to your business we would love to help. Please contact us today!
Your Turn To Sound Off
What analytic metrics or key performance indicators do you use?
Let me know in the comments below!
Dale is an accomplished marketer with over 20 years of real-world business sales and marketing experience specializing in e-commerce, email marketing, brand authority, SEO, PPC, SMO and web development. Having served as the Sales & Marketing Director for a multi-million dollar eCommerce company for over a decade, his experience in the trenches provides the foundation most digital marketers just don't have the experience to offer.
About us and this blog
We are a full service agency that delivers compelling, measurable, profitable digital marketing solutions. Our winning solutions and experience helps to deliver great results across several key areas.
Request a free quote
We offers professional SEO services that help websites increase organic search drastically and compete for 1st page rankings of highly competitive keywords.